I'm now back from  London and have started to think about what to do next.
I've redone the compression tests (cold and hot) and have the following results
Cylinder 1     88 Cold / 92 Hot
Cylinder 2    84 Cold / 84 Hot
Cylinder 3    84 Cold / 84 Hot
Cylinder 4    90 Cold / 92 Hot
Engine has completed around 350 miles so probably still bedding in.
The spark plugs are as clean as a whistle see attached.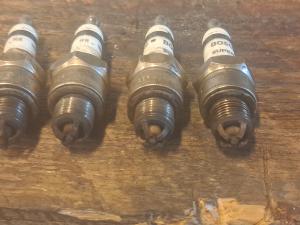 Although the engine has consumed or lost 3 pints of oil in 200 miles I would have expected to see huge clouds of blue smoke. If I leave the engine idling there isn't anything on the ground apart from water vapour.
I am now wondering whether the car is leaking some oil – possibly from where the petrol pump is (I'll redo the gasket).
Any Thoughts? – I have also asked for help from my motor club and lust waiting to hear back.